AMD Radeon un Nvidia GeForce sadarbības partneris XFX ir sagatavojis statīvu monitoriem, lai lietotāji varētu pilnībā izbaudīt AMD Eyefinity un Nvidia 3DVision Surround iespējas.
Šis statīvs piedāvā trīs stiprinājumus, lai pie katra no tiem varētu pievienot monitoru. Stiprinājumi ir VESA standarta, kas nozīmē, ka ir plaša savietojamība ar daudziem monitoriem.  Katru no monitoriem var grozīt par 360 grādiem, kā arī mainīt to novietojuma leņķi, lai maksimāli ērti varētu pielāgot izvietojumu lietotāja darba prasībām.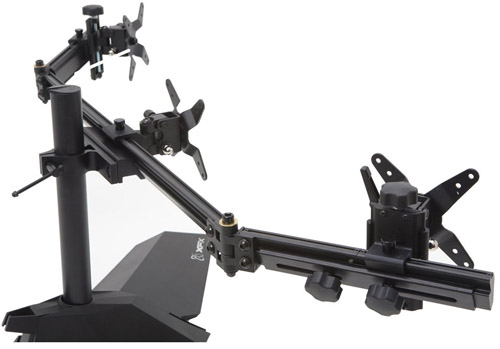 Statīvs ir veidots no tērauda, tā pēda ir pienācīgi smaga un attiecīgas formas, lai saglabātu stabilu balansu. Pēdā ir iebūvēts arī USB2.0 un audio HUBs.
XFX Triple Display statīva cena ir 367.06 dolāri.
Ziņas avots – TechPowerUp.com
Just introduce the necessary program which allows to use android spy in phone and it is possible to check quietly everything with the help spy on phone here and so everything is arranged.